Una fantastica giornata di settembre, un'atmosfera inebriante degna dei grandi eventi, hanno fatto da cornice a questa edizione inaugurale dell'IRONMAN Italy Emilia-Romagna. Fin dalle prime ore della mattina 2500 atleti di cui 70 professionisti, accompagnati da tantissimi supporter, hanno riempito il lungomare della città di Cervia per completare le operazioni di rito prima della partenza.
Alle ore 7.30 in punto, con un mare piatto e una temperatura esterna di 15°, i PRO uomini hanno dato il via ufficiale al primo IRONMAN Italy Emilia-Romagna accompagnati dal calore e dall'entusiasmo di migliaia di spettatori provenienti da tutto il mondo. Animi incandescenti e partenza sensazionale con il susseguirsi dei PRO uomini, PRO donne e tutti gli age group che, con il sistema del rolling start, hanno iniziato la loro avventura.
"E stato il mio primo IRONMAN e non potevo immaginare di meglio"
– Andreas Dreitz
La frazione di nuoto è apparsa subito avvincente. Il primo ad attraversare l'uscita all'australiana, dopo 1,9km, è stato il francese Jeremy Jurkiewicz in soli 26'05'', seguito dall'italiano Ivan Risti e dal tedesco Niclas Bock con soli 5'' di ritardo. Al termine della seconda parte della frazione nuoto il francese si conferma il più veloce ad uscire dopo soli 45'49'' seguito da Ivan Risti e Niclas Bock. I tre atleti sono usciti dalla zona cambio nello stesso ordine per affrontare il percorso ciclistico, seguiti dall'italiano Alessandro Degasperi e dai tedeschi Andrea Dreitz e Timo Bracht, all'ottavo e nono posto rispettivamente.
I 180 km in due giri nell'entroterra tra le province di Ravenna e Forlì – Cesena hanno visto completamente stravolgere l'ordine di partenza con una rimonta sensazionale del tedesco Andreas Dreitz, in testa al gruppo già al km 31,9. Degasperi recupera fino a conquistare il secondo posto del gruppo a soli 55'' di distanza; terzo il francese Jurkiewicz, mentre Timo Bracht continua la fantastica ascesa in quarta posizione. Il rientro in zona cambio vede in testa il giovane Dreitz seguito dall'italiano Degasperi e da uno strepitoso Bracht, seguito a sua volta a breve distanza dal francese Jurkiewicz.
Mentre Andreas Dreitz continua la sua corsa in solitaria, la maratona riserva ulteriori sorprese nei gradini più bassi del podio. Alessandro Degasperi, secondo anche nei primi chilometri, si ritira in previsione della sua prossima partenza per la World Championship a Kona, Hawaii. Con il ritiro dell'italiano, Timo e il danese Jens Petersen-Bach sono rispettivamente al secondo e terzo posto ma dopo già i primi chilometri il tedesco perde posizioni a vantaggio del danese. Il croato Andrej Vistica continua a guadagnare posizioni e a metà percorso raggiunge il terzo posto che conserva fino al traguardo.
Andreas Dreitz conclude la sua corsa in solitaria tagliando il traguardo in 08:03:27, conquistando in terra italiana il suo primo podio nella lunga distanza e il primo dell'IRONMAN Italy Emilia-Romagna. Sul secondo e terzo gradino del podio il danese Petersen-Bach in 08:12:57 e il croato Andrej Vistica in 08:17:47.
Anche tra le donne professioniste la battaglia è stata intensa, con continui capovolgimenti di classifica. Fantastica performance nella frazione di nuoto per la canadese Jenny Fletcher in 54:09 seguita dalla belga Tine Deckers e dalla tedesca Carolin Leherieder. Ottima anche quella dell'italiana Marta Bernardi alla sua prima gara in una lunga distanza. Ma la più veloce ad uscire dalla zona cambio è Lucy Gossage solo quinta nella frazione nuoto. Una battaglia per la prima posizione tra l'inglese Gossage e la belga Deckers: nessuna delle due vuole accontentarsi del secondo posto. Durante la frazione di bici, gran duello tra la tedesca Carolin Lehrieder e l'italiana Marta Bernardi ma alla fine è proprio quest'ultima ad avere la meglio grazie ad un'ottima ultima frazione.
Il podio femminile ha i colori azzurri con il terzo posto dell'italiana Marta Bernardi che chiude la gara in 09:20:04; al secondo posto la belga Tine Deckers che chiude in 09:13:35 e sul gradino più alto si consacra l'inglese Lucy Gossage 09:06:39. Questo podio internazionale, sia maschile che femminile, rispecchia perfettamente lo spirito di questa prima edizione italiana dell'IRONMAN, con la quale possiamo affermare di aver scritto una nuova pagina del triathlon italiano ed internazionale.
Fonte: Comunicato stampa Ironman Italy
Foto: Copyright Alessandro e Marco Trovato
Leggi
Sarà un weekend ricco di appuntamenti per gli amanti della triplice disciplina. In particolare su suolo europeo dove avranno luogo, in contemporanea, ben due Campionati continentali, quello sulla distanza olimpica che si terrà a Kitzbühel, in Austria, e quello dell'Ironman 70.3 che invece avrà luogo a Elsinore, in Danimarca.
Scorrendo la "Start list" di quest'ultima competizione, è possibile individuare parecchi atleti di punta, a cominciare dal campione europeo in carica, il tedesco Andreas Dreitz, che partirà nelle vesti di grande favorito, ma anche quello dell'elvetico Ruedi Wild, fresco vincitore a Rapperswil e dello svedese Patrik Nilsson.
Sul fronte delle donne i nomi di spicco sono quelli dell'atleta di casa Helle Frederiksen che torna a gareggiare in Danimarca dopo ben sette anni di assenza, di Camilla Pedersen e della britannica Emma Pallant. Queste tre atlete sono considerate, vista anche l'assenza di Daniela Ryf, le maggiori pretendenti al titolo.
"Aspettiamo con grande interesse la gara di domenica che si prospetta di alto livello e molto combattuta per il cast di atleti al via, il più forte in assoluto mai avuto in una competizione in Scandinavia", ha detto con una punta di soddisfazione Thomas Veje Olsen, "managing director" dell'Ironman Danemark.
Di seguito le schede, redatte in inglese, degli atleti di punta che prenderanno parte a questa competizione:
PRO MEN
Andreas Dreitz (BIB 1)
We have to mention defending IRONMAN 70.3 European champion, Andreas Dreitz. Last year he won the title with more than one minute down to a strong Lionel Sanders at the IRONMAN 70.3 European Championship in Wiesbaden. And this season, the young German has shown that he is in excellent shape. He comes to Elsinore with a second place in IRONMAN 70.3 Mallorca and a fourth in IRONMAN 70.3 Oceanside fresh in his memory. With his form on the up, it'll be exciting to see if he can defend his title on Sunday.
Patrik Nilsson (BIB 7)
A strong pick as an outsider for the victory in Elsinore has to be Patrik Nilsson from Sweden. Patrik has only had one start this season – in IRONMAN 70.3 Barcelona, where he finished in eighth place in a super strong field. What makes Patrik extra interesting in Elsinore is that he lives in Denmark and does not train far from the championship route. In 2016, he won two IRONMAN competitions in sub eight-hours, in IRONMAN Copenhagen and then shortly after in IRONMAN Barcelona. Patrik himself reports that he back in the same form as when he won IRONMAN 70.3 Barcelona last year.
Michael Raelert (BIB 4)
He has been part of the professional triathlon world for many years now, with two IRONMAN 70.3 World Championships on his result list among other accolades. Everything suggests that Michael Raelert is back in top form, as late as two weeks ago in Samorin he took third place after Lionel Sanders and Sebastian Kienle and before the defending 70.3 European champion Andreas Dreitz. Other results include a solid fourth place in IRONMAN 70.3 Subic Bay in the Philippines, a win in the Bangsaen Triathlon in Bangkok in February and a convincing victory In the Laguna Phuket Triathlon back in November last year.
Ruedi Wild (BIB 2)
A man who must be considered an outsider to the European Championship title on Sunday is the Swiss Ruedi Wild. He has had three starts in IRONMAN 70.3 competitions this year, all of which ended on the podium – two of them on top as the winner. Wild started his 2017 season securing a number three spot in IRONMAN 70.3 Dubai in January, after that he continued to the Philippines first and then to Taiwan in March. First Ruedi won the IRONMAN 70.3 Subic Bay in front of Michael Raelert and the week after he captured the title at IRONMAN 70.3 Taiwan in front of experienced pro athletes like Tim O'Donnell.
Andi Boecherer (BIB 5)
A strong bid for the IRONMAN 70.3 European Championship title and definitely a favorite for a podium is Andi Boecherer from Germany.  He has had a late start in the 2017 season, putting extra hours in training sessions. However, everything now appears to be in place. It is only a couple of weeks since Boecherer went on the podium in IRONMAN 70.3 St. Pölten coming in second after Nils Frommhold. The race in St. Pölten is Boecherer's only start this season, so he comes to Elsinore with fresh legs. Looking back to last year, Boecherer was the only one who gave Sebastian Kienle serious competition at the IRONMAN European Championship in Frankfurt – Kienle won, but Boecherer became second, just one minute from the victory and more than a quarter faster than Eneko Llanos in third place.  He also won the IRONMAN 70.3 St. Pölten. If Andi Boecherer hits his stride, he is definitely worth keeping a close eye on.
Rodolphe von Berg (BIB 3)
Back in March, American Rodolphe Von Berg launched his 2017 season with a second place in IRONMAN 70.3 Buenos Aires, and three weeks later he spiced it up with a third place in IRONMAN 70.3 Texas. Since then he has focused on getting speed in the legs on the shorter distances in the mixed relay format of the Major League Triathlon series. If Rudolphe Von Berg can keep pace from the two Major League competitions, he becomes a dangerous man to compete against in Elsinore. With a sixth place in Wiesbaden last year, he has proved he is worth watching out for.
Nils Frommhold (BIB 6)
One start. One victory. That's the tale of German Niels Frommhold's season so far. Nils looks strong and in excellent shape prior to the KMD IRONMAN 70.3 European championship, his victory coming as recently as IRONMAN 70.3 St. Pölten. To win in St. Pölten, Frommhold had to beat the then defending St. Pölten champion Ruedi Wild, who otherwise proved to be in absolute top form. The bid is at least a top five for Nils and if he gets everything wrapped up in a perfect race, he could get all the way to the podium.
Pieter Heemeryck (BIB 19)
Belgian Pieter Heemeryck is perhaps not one of the most famous men in the international triathlon scene, but that does not mean he is not worth watching. Heemeryck has several top results, the latest in Gran Canaria in April. Here he finished second, only surpassed by super star Alistair Brownlee – and with wins in, among others, IRONMAN 70.3 Lanzarote and Challenge Mallorca last year, along with a third place in IRONMAN 70.3 Kraichgau incredibly close to Sebastian Kienle, he has proven himself among the big names.
Also keep an eye on . . .
Esben Hovgaard (BIB 20) because he is racing on home soil and seems to be in excellent shape. He has previously stated that he has a Kona qualification as goal this season, and the points at stake in Elsinore will help him in the right direction.
Ivan Kalashnikov (BIB 23), because in this season he seems to be in a really good shape and he took second place at IRONMAN 70.3 Vietnam this year.
Martin Olsson (BIB 27) because he is close to his Swedish home ground and knows how to cope with the Nordic weather. He has raced as an age group athlete and posted several excellent results in fast times. This season, however, is Olsson's first season as a pro.
Andreas Borch (BIB 10) because he is on home soil and therefore hungry to prove himself in front of the home crowd.
Sylvain Sudrie (BIB 28) because he has previously performed well, with a victory in IRONMAN 70.3 Barcelona in 2014 and a silver medal at the ETU European Championships in 2012 his best results.
PRO WOMEN
Emma Pallant (BIB 41)
British rising star Emma Pallant has already had four starts this season and finished on the podium in no less than three of them – two of which she won! The former GB Olympian is extremely fast on the run course when things heat up. It is only a few weeks since she won the IRONMAN 70.3 Barcelona, ​​and only one week earlier she was second at IRONMAN 70.3 Mallorca. Also, she launched the season with a fourth place in IRONMAN 70.3 Dubai in January. Emma Pallant has for several months had the IRONMAN 70.3 European Championship in Elsinore as an absolute A race, and with the shape she seems to be in, it's a must to keep an eye on the fast British athlete.
Annabel Luxford (BIB 39)
When Lucy Charles won in Samorin, it was an incredibly tight race that could easily have seen someone else finish as winner. Australian Annabel Luxford was in a very favorable position until one kilometer from the finish line where Charles passed her. Annabel Luxford finished second, and with only two weeks between the two competitions, it proves an Australian in absolute top form. And with the victory of IRONMAN 70.3 Geelong back in February and Melbourne in April, it's likely that Luxford has what it takes to step on the podium.
Helle Frederiksen (BIB 38)
We haven't seen much of her this year yet, but Danish Helle Frederiksen usually reaches a top ranking no matter what competition she's in. She proved so at IRONMAN 70.3 Puerto Rico in March this year, where she came third in a race that she felt went badly – which says something about her ambitions and quality as a triathlete.  If Helle Frederiksen can keep the level of her seven 70.3 victory victories throughout her career, then she is an obvious candidate for a Danish medal. Maybe even a gold. It is her first race in 7 years in Denmark and she is eager to perform in front of the large home crowd.
Anja Beranek (BIB 35)
German Anja Beranek is ready to give it all at the KMD IRONMAN European Championship. This season she has only competed in one race. On the other hand, it was also the best possible result: she won in the hilly Rimini just a few weeks ago.
Looking back at Beranek's competitions last year, gives a better insight in what she is made of. A victory in IRONMAN 70.3 Kraichgau, a victory in Furteventura and a third place in IRONMAN 70.3 St. Pölten were her top results for her 2016 season, and in previous years she has also delivered solid podium result in major international competitions. With the victory in Rimini in fresh memory, one must assume that Anja Beranek is starting in Elsinore with the ambition and confidence that she can go all the way.
Camilla Pedersen (BIB 37)
A solid pick for a home court medal is found in the highly-skilled Camilla Pedersen. The last time she was on the start line was in IRONMAN 70.3 Barcelona a few weeks ago, where she had a crash on the bike course while in medal position. When Camilla starts at Elsinore on Sunday, it's far from the first time she has competed for the 70.3 European Championship. She won in Wiesbaden just two years ago – with several wins in various IRONMAN and IRONMAN 70.3 competitions over the years in her luggage, she is good bid for a Danish medal alongside Helle Frederiksen.
Amelia Watkinson (BIB 47)
Another non-European who is worth watching on Sunday is New Zealand's Amelia Watkinson. Last season she was on the podium no less than 18 times in both big and small competitions, 15 of them as number one – you don't achieve that if you are not a world class athlete. This season Watkinson has raced several competitions gaining two wins, one second place, one fifth and one ninth. One of the victories was in the New Zealand Championship at the 70.3 distance – and after a long training camp on the BMC-Etixx Pro Team recently, Amelia Watkinson is expected to be in absolute top shape when the gun sounds Sunday morning at swim start.
Maja Stage Nielsen (BIB 50)
A reasonable outsider for victory in Elsinore is Danish athlete Maja Stage Nielsen. Maja has over the last couple of years run several competitions at the 70.3 distance and has achieved ETU silver on the distance as late as last year. By the end of the 2016 season, Maja drove her first IRONMAN in IRONMAN Mallorca where she crossed the finish line as number two. And the success continued this spring, where she finished fifth in an incredibly strong field in IRONMAN 70.3 Texas before taking third in IRONMAN Texas a few weeks later. The season's big goal for Maja was to redeem a ticket to the IRONMAN World Championship in Hawaii in October, and with the ticket safe in her house, she can go all in for a make or break race. That could definitely prove to be an advantage for the rising Danish star.
Also keep an eye on…
Kaisa Sali (BIB 36) because she has previously delivered top performances including a ETU European Championship in 2015 and a victory in IRONMAN 70.3 Zell am See-Kaprun last year.
Natalie Seymour (BIB 42) because last year, in her first season as a pro, she delivered impressive results with a second place in IRONMAN 70.3 Dublin as her strongest achievement.
Alice Hector (BIB 44) because she has been performing well in various IRONMAN 70.3 competitions across the globe since 2014. Her victory at IRONMAN 70.3 Ruegen last year has to be considered her strongest international achievement.
Astrid Stienen (BIB 48) because she often flies under the radar, but still manages to blend in the top of most of her competitions. Second place in IRONMAN 70.3 South Africa in 2016 must be considered her biggest achievement.
Diana Riesler (BIB 54) because she is usually good value for a top spot in the competitions she enters. Among her biggest achievements are victories at IRONMAN Lanzarote in 2015, IRONMAN Malaysia in 2014 and 2015, the 70.3 Gdnynia in 2015 and the ETU European Championship on long distance in 2013.
Foto: in alto, Emma Pallant recente vincitrice dell' IRONMAN 70.3 Barcellona, è considerata una delle maggiori pretendenti alla vittoria in campo femminile; sotto, il tedesco Andreas Dreitz cercherà di difendere il suo titolo di Campione europeo conquistato lo scorso anno (copyright © Getty Images for IRONMAN).
Fonte: Triathlon, che passione!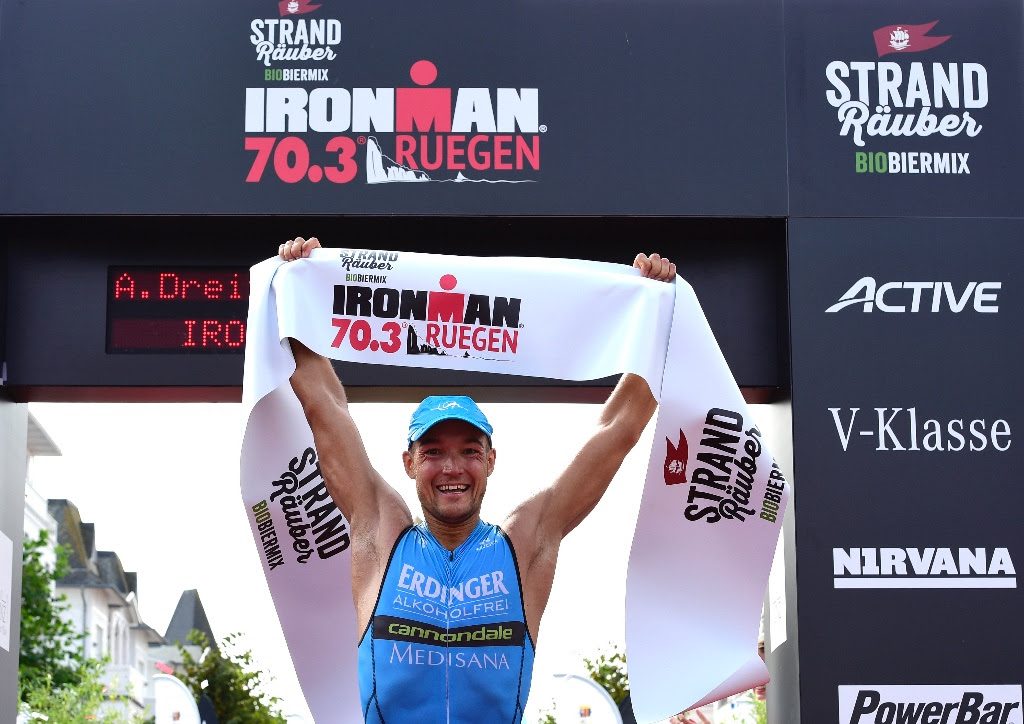 Leggi
L'Ironman 70.3 Mallorca, disputato oggi con partenza dalla spiaggia di Alcudia, è stato vinto dal britannico David McNamee che ha preceduto sul traguardo il tedesco Andreas Dreitz e lo spagnolo Miquel Blanchart Tinto. Uscito bene già dall'acqua dopo 1,9 km (22'58''), McNamee ha perso qualche posizione nella tratta in bici di 90 km, recuperando però nella frazione a corsa dove con parziale di 1h13'41'' ha segnato il miglior tempo. 3 ore 56 minuti e 49 secondi il suo crono finale. Bene l'atleta italiano Jonatan Ciavatella, quinto assoluto a poco più di 13' dal vincitore. Sempre tra gli uomini da segnalare il bellissimo primo posto di categoria nella classe d'età 25-29 anni del ticinese Giacomo Trabattoni. In campo femminile la migliore è la tedesca Laura Philipp (4h21'41'') che ha chiuso davanti alla britannica Emma Pallant e alla neozelandese Amelia Watkinson. Brillante prestazione, anche qui, di un'atleta ticinese: Carola Fiori-Balestra ha infatti chiuso a sua volta in prima posizione nella classe d'età 45-49 e dodicesima assoluta tra le donne. Nella starting list figurava anche il nome di Daniela Ryf che però non ha preso parte alla gara.
Fonte: Triathlon, che passione!
Foto: Getty Images
Leggi